---
National Tourism Week 2022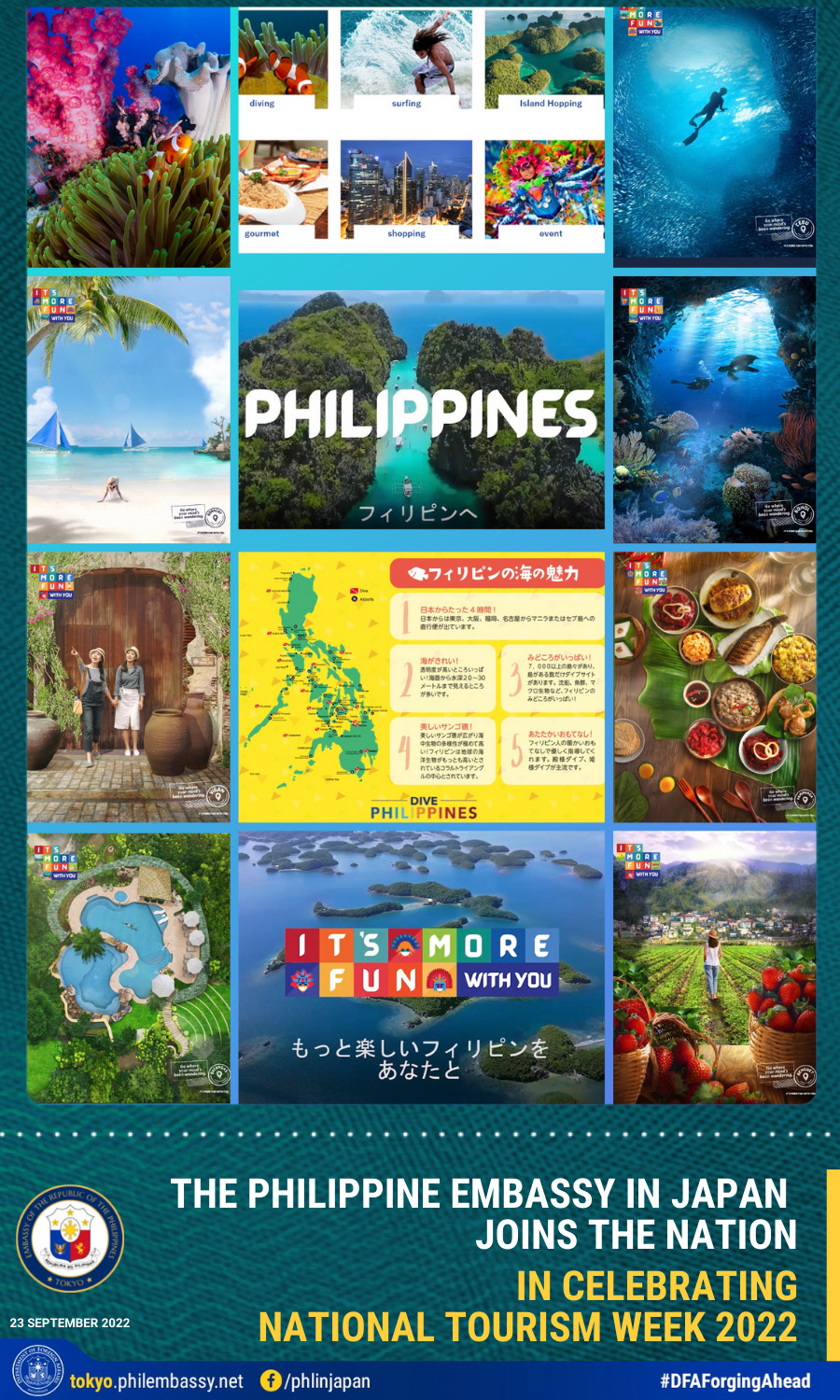 The Philippine Embassy in Japan and Sentro Rizal – Tokyo join the nation in the celebration of National Tourism Week 2022.
To know more about visiting the Philippines, please visit https://philippinetravel.jp/
#ItsMoreFunInThePhilippines
#TokyoPECulturalDiplomacy
---
Fiesta Filipinas: "Kadayawan Festival"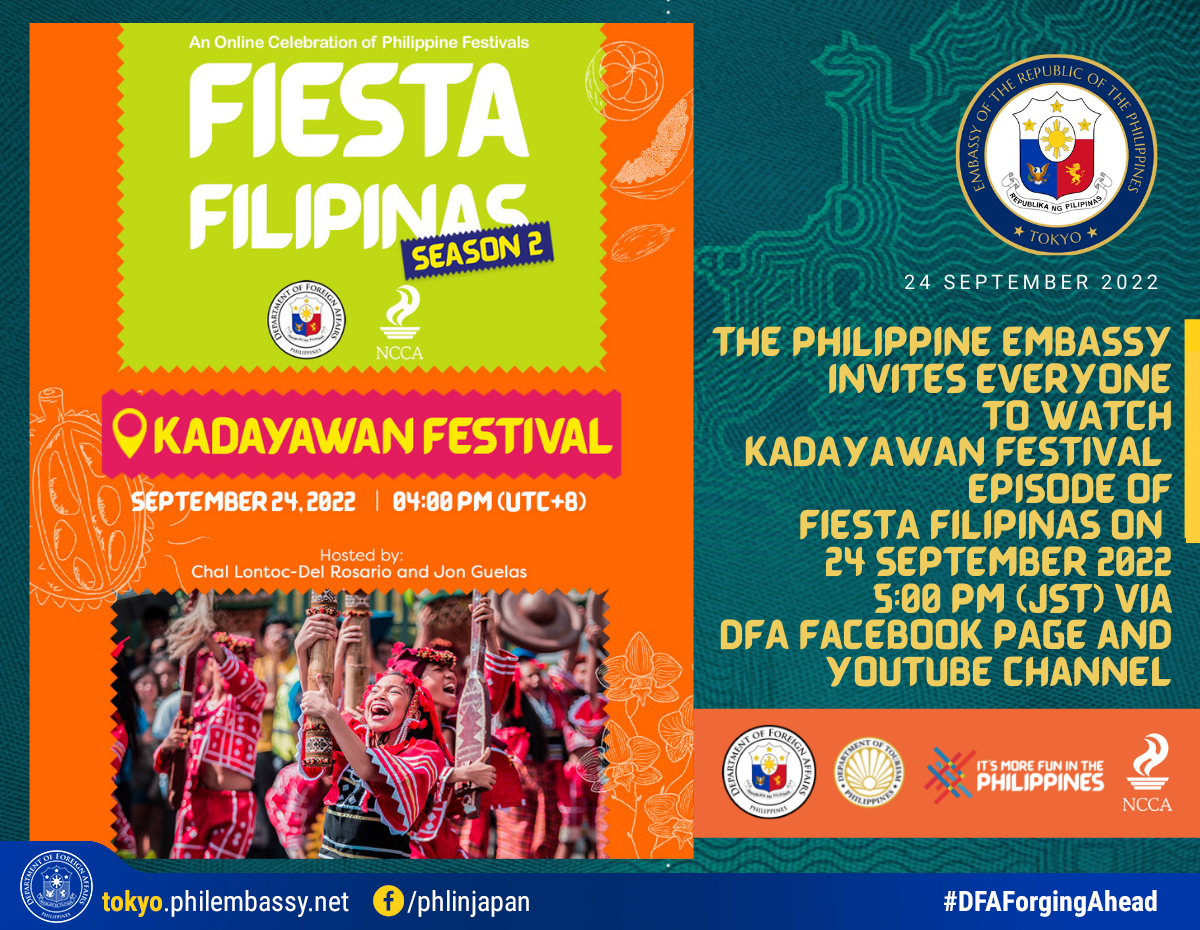 Madayaw, bisitas! That means "good" or "beautiful" in the local dialect.
Get ready to celebrate and experience with us the bountiful culture of Davao through the Kadayawan Festival on 24 September 2022, 5:00 AM (Japan Standard Time).
Join us via the DFA Facebook page and YouTube channel https://tinyurl.com/wv2wc7km.
Don't miss the third episode of Fiesta Filipinas Season 2: An Online Celebration of Philippine Festivals by the Department of Foreign Affairs in partnership with the National Commission for Culture and the Arts.
#FiestaFilipinas
#CulturalDiplomacy
#DFAForgingAhead
#KulturaPH #InstaKultura
#ItsMoreFunInThePhilippines #MoreFunWithYou
---
2nd Virtual Youth Leaders in the Diaspora Program 2022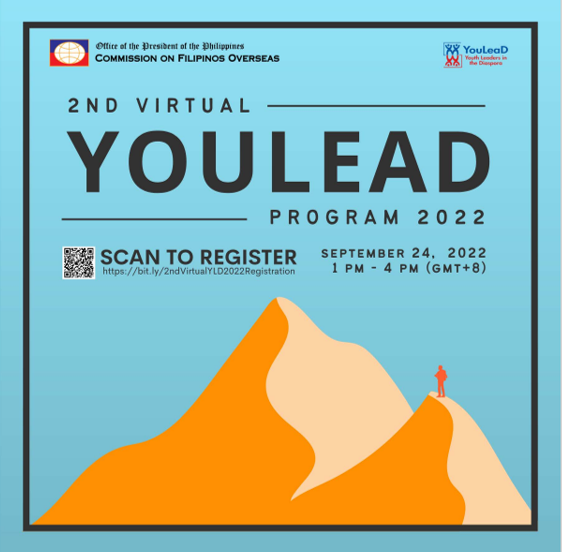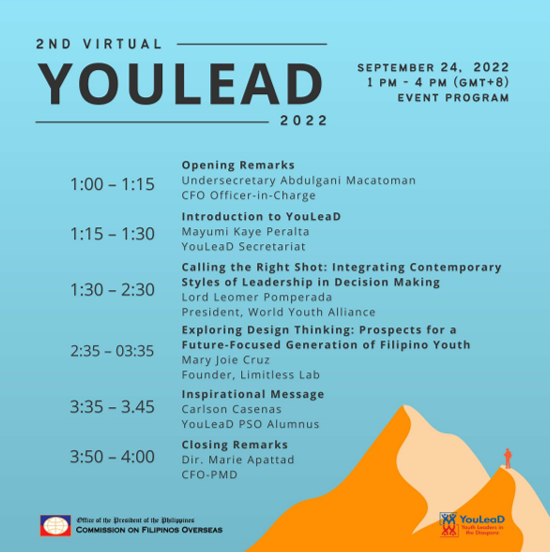 "Re-discover your Filipino roots! Join the 2nd Virtual Youth Leaders in the Diaspora Program 2022!"
When: 24 September 2022, Saturday, from 1:00pm to 4:00pm (PH time)
Where: Virtual through Zoom
How: Registration is FREE! Register until 17 September 2022, Saturday through the following link: https://bit.ly/2ndVirtualYLD2022Registration
Certificates of Participation or Completion will be issued to participants.
---
Philippine Culture and Cuisine Debut at Fuji TV World Buzz Cooking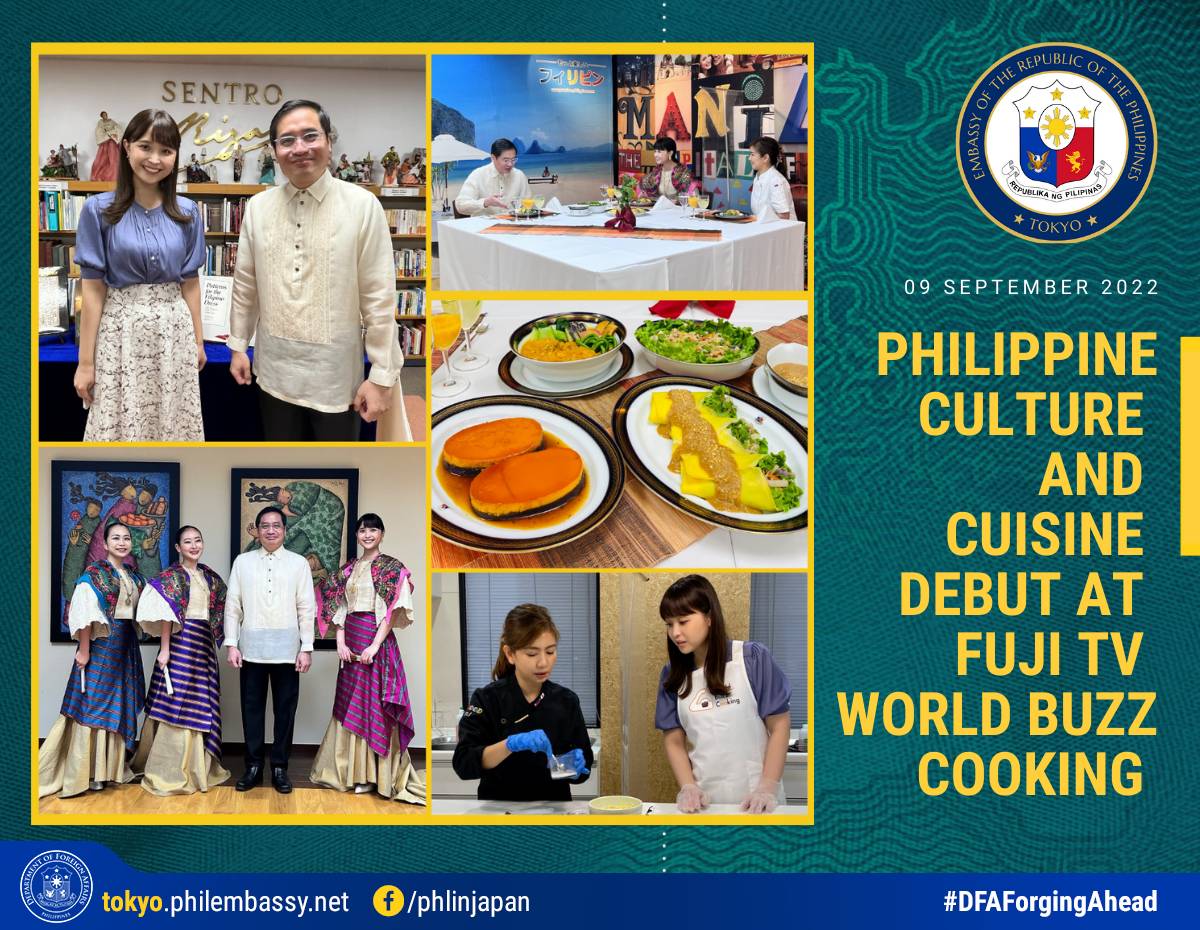 09 September 2022 – Philippine Embassy in Japan Charge d' Affaires (CDA) Robespierre L. Bolivar welcomed FUJI TV World Buzz Cooking YouTube Channel host and announcer, Ms. Nagisa Watanabe at the Embassy for a Philippine cultural and culinary experience.
CDA Bolivar first gave Ms. Watanabe a glimpse of the life of Dr. Jose Rizal whose bust is displayed in the Embassy lobby and at Hibiya Park. Ms. Watanabe was delighted to know that the bust at Hibiya Park was installed to commemorate the centennial anniversary of the Philippine national hero's visit to Japan in 1888.
CDA Bolivar also took Ms. Watanabe to the Embassy's "Sentro Rizal" library where they talked about the books "Kulinarya" and "Patterns for the Filipino Dress", coffee table books on Philippine cuisine and attire. He informed Ms. Watanabe that the books are included in the package the Embassy is donating to local libraries in Tokyo as part of its ongoing book donation drive which aims to create a better awareness of the Philippines and its people and culture in Japan.
Ms. Watanabe had the opportunity to wear a traditional "baro't saya" which she highly praised as a "very suitable garment for the summer" because of its airy sleeves. Ms. Watanabe also performed one of the iconic Philippine dances from Quezon Province called "Lanceros de Tayabas", together with the Tokyo University of Foreign Studies Cultural Dance Troupe.
Completing the cultural immersion, CDA Bolivar invited Ms. Watanabe to a culinary experience of well-loved Filipino dishes "kare-kare", "sariwang lumpia" and "ube flan" prepared by Japan-based Filipino Chef Mareve Inomata.
Ms. Watanabe also had the opportunity to prepare and cook the featured dishes under the supervision of Chef Inomata.
Every Friday for the entire month of September, FUJI TV's World Buzz Cooking YouTube Channel will take its viewers and followers on an ultimate online cultural journey to the Philippines. The first episode can be viewed via the link: https://youtu.be/kAw9izp_KOg
---