---
Philippine Embassy Promotes Dr. Jose Rizal's Life, Work, and Values Through Japanese Manga
27 December 2021 – To commemorate the 125th Anniversary of the Martyrdom of Dr. Jose P. Rizal, the Philippine Embassy unveiled a special addition to its Sentro Rizal Library – copies of the first Manga (Japanese-style comic book) about the Philippine national hero autographed by the author and artist.
The English and Filipino versions of the Manga entitled, "Jose Rizal, The Filipino Hero's Life Illustrated," which bear the signatures of the writer Mr. Takahiro Matsui, and artist Mr. Ryo Konno, were officially turned over to the Sentro Rizal Library of the Philippine Embassy in Japan during a ceremony held today.
In his remarks, Philippine Embassy in Japan Charge d'affaires (CDA) Robespierre L. Bolivar praised Mr. Matsui for his groundbreaking work. "Dr. Rizal's life, work and values should be shared with generations of young Filipino and Japanese students alike. As a teacher before joining the diplomatic service, I know for a fact that asking students to remember dates, names and events is not sufficient. As such, the publication of this Manga presents a creative way to capture the interest and engage younger generations, who are fans of comic books, to learn more about our national hero," he said.
Mr. Matsui spoke about his admiration for Dr. Rizal and his various talents, intellect, and perspectives about life. He hoped that with his work, he can share Rizal's inspiration to children of Filipino descent living in Japan. Mr. Matsui wanted to impart the message that "there was once an honorable man in the Philippines who devoted himself to the cause of human dignity and freedom".
The Manga relates the key events in Rizal's life through flashbacks, beginning with a scene depicting his execution at Bagumbayan, now Luneta Park. The story then revisits his childhood in Laguna, and retraces the different stages of his education, writing, and pursuit of far-reaching reforms of the Spanish rule in the Philippines. It was first released online in 2018, before being published in Filipino, English and Nihonggo. (END)
Philippine Embassy in Tokyo joins the campaign to end Violence Against Women
Participants of the workshop raised their orange hearts and wore orange masks in celebration of the Campaign to end violence against women.
6 December 2021 --- The Philippine Embassy in Tokyo joined the 18-day campaign to end violence against women (VAW) from 25 November to 12 December. The theme for this year's observance is "VAW-free community starts with Me."
In partnership with International Organization for Migration (IOM) and the HELP Asian Women's Shelter, the Embassy conducted a seminar-workshop for its personnel on counseling for domestic violence (DV) cases. Participants gained a better understanding of an effective and holistic approach to counseling.
Ambassador Jose C. Laurel V remarked that "domestic violence is no longer a private issue" and that "the community should be involved to stop the cycle of domestic violence." "I hope that this training helped our personnel become more equipped to assist our Kababayans," he further stated.
Asked on the best take-away participants should remember from the workshop, caseworker Ms. Carina Morita of the IOM answered, "A helper's tool is himself or herself. Whether we like it or not, issues presented to us by our clients will be seen to a certain degree through a personal lens. It is helpful for helpers to be aware of their own personal lenses, and the things that affect them."
Volunteers took on roles of different people with different statuses to determine if they are able to access and/or afford certain privileges.
"Particularly for those involved in direct assistance, being our own tools means we vicariously experience the problems and personal issues of our clients. It is important therefore that we set aside time and make an effort to take care of ourselves," Ms. Morita explained.
As for DV survivors, Ms. Haruko Sakama of the HELP Asian Women's Shelter said that there is a support system in Japan for DV survivors, including their children. Ms. Sakama also shared this message for both DV survivors and their family and friends: "A DV survivor has the power to change his or her life for the better. We should respect whatever the decision he or she makes."
During the seminar, to symbolize their care and concern, Embassy participants posed with pictures of hearts in orange, the color of the campaign.
---
Philippine Embassy in Japan Welcomes Filipino Basketball Stars Playing in the B.League
---
PH Cooperation with Japan and UK for Science, Technology and Innovation
In the Department of Science and Technology (DOST) Report for the first week of December, Ambassador Jose C. Laurel V was interviewed by Secretary for Science and Technology Fortunato de la Peña on the Science, Technology, and Innovation collaborations between the Philippines and Japan.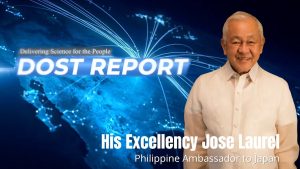 Ambassador Laurel highlighted the Philippines' fruitful cooperation with Japan and stated that "Science diplomacy plays a key role in advancing a country's national interests particularly as a foreign policy to enhance relationships, to encourage scientific cooperation and to tackle global challenges."
One of the breakthroughs of the Philippines-Japan science and technology collaboration is the development of the Philippines space program which resulted to the success of Filipino-built micro-satellites.
He added that "DOST's cooperation with Japan has induced several essential scientific and technological advancements in the Philippines such as the development of the Philippine space program and the assistance of Japan in enhancing the Disaster Risk Reduction Management (DRMM) of the Philippines."
Aside from Ambassador Laurel, other guests of the DOST Report included Japanese Ambassador to the Philippines Kazuhiko Koshikawa, Ambassador to UK Antonio Lagdameo, and Deputy Head of Mission at the British Embassy Alastair Totty.
Ambassador Koshikawa provided information on the Philippine and Japan Science and Technology collaboration such as in space cooperation, DRMM, and Capacity Building Activities. He also affirmed the Japanese Embassy in Manila's support to the furtherance of Science, Technology, and Innovation cooperation between the Philippines and Japan, and stands ready to assist DOST in facilitating enhanced people-to-people engagement through scholarships and student/scientist exchanges.
The whole interview may be accessed through DOST's YouTube channel https://www.youtube.com/watch?v=TXvvi5EAo-w.